10-Way 12V Blade Fuse Box W/LED Indicator & Cover
This 10 way ATC/ATO blade fuse holder box is compact, yet rugged in construction. LED illuminated, the red LED indicator light allows you to quickly diagnose which of the fuse has "popped". This fuse panel has a #10-32 stud for power feed, .250" male quick disconnect terminals, can take an input voltage of 10 – 32 V DC, can handle a maximum of 30 Amp per circuit with a maximum of 100 Amp per panel, and has a cover for additional protection.
Interchangeable/Compatible with:
All automobiles and devices equipped with a 10-32 Volt DC power source.
Features:
High quality construction.
Red LED illuminates when fuse is blown.
Maximum of 30 Amp per circuit and 100 Amp per panel.
Clear cover included for additional protection.
Product Content:
1 Year Manufacturer Warranty
Amazon's Price:
Related products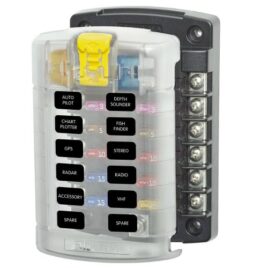 Blue Sea Systems 12-Circuit Fuse Holder
Blue Sea Systems ST Blade ATO/ATC Fuse Blocks
ST Blade ATO/ATC fuse blocks consolidate branch circuits and eliminate the tangle of in-line fuses for electronics and other appliances. Their robust design makes them ideal for marine and vehicle DC electrical systems. All buses and fuse clips are tin plated copper for corrosion resistance and optimal electrical conductivity. All ST Blade fuse blocks utilize a specialized fuse clip that is designed to hold fuses in place in the harshest conditions. All fasteners are stainless steel. Screws contain a captive star lock washer for a faster more secure installation. Studs utilize flange nuts for a simpler and safer installation. Fuses sold separately. Additional Key Features Include: Ground Bus: For DC negative connections. (5024, 5025, 5030, 5026, 5031, and 5032). Includes Cover: Easy to open insulating cover that provides access to fuses and satisfies ABYC/ USCG requirements. (5023, 5024, 5045, 5046, 5035, 5025, 5028, 5026, 5029 and 5032). Independent Source: Each circuit contains an individual feed wire. (5035 and 5037). Common Source: Single feed wire supplies power to all circuits in the fuse block. (5023, 5024, 5045, 5046, 5025, 5030, 5028, 5033, 5026, 5031, 5029, 5034, and 5032). Split Bus: Allows two isolated groups of 6 circuits each. (5032 only). Ignition Protection: Allows for use in a gasoline engine compartment. Meets ISO 8846 and SAE J1171 external ignition protection requirements. (5023, 5024, 5045, and 5046).
Amazon's Price:
not rated
Order Product