fue holder
Showing the single result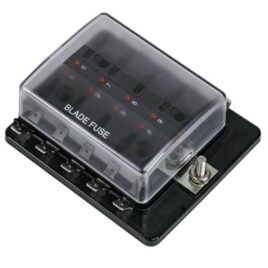 10-Way 12V Blade Fuse Box W/LED Indicator & Cover
This 10 way ATC/ATO blade fuse holder box is compact, yet rugged in construction. LED illuminated, the red LED indicator light allows you to quickly diagnose which of the fuse has "popped". This fuse panel has a #10-32 stud for power feed, .250" male quick disconnect terminals, can take an input voltage of 10 – 32 V DC, can handle a maximum of 30 Amp per circuit with a maximum of 100 Amp per panel, and has a cover for additional protection.
Interchangeable/Compatible with:
All automobiles and devices equipped with a 10-32 Volt DC power source.
Features:
High quality construction.
Red LED illuminates when fuse is blown.
Maximum of 30 Amp per circuit and 100 Amp per panel.
Clear cover included for additional protection.
Product Content:
1 Year Manufacturer Warranty
Amazon's Price:
not rated
Order Product