fuse block
Showing all 3 results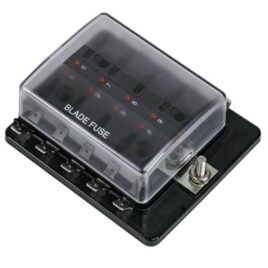 10-Way 12V Blade Fuse Box W/LED Indicator & Cover
This 10 way ATC/ATO blade fuse holder box is compact, yet rugged in construction. LED illuminated, the red LED indicator light allows you to quickly diagnose which of the fuse has "popped". This fuse panel has a #10-32 stud for power feed, .250" male quick disconnect terminals, can take an input voltage of 10 – 32 V DC, can handle a maximum of 30 Amp per circuit with a maximum of 100 Amp per panel, and has a cover for additional protection.
Interchangeable/Compatible with:
All automobiles and devices equipped with a 10-32 Volt DC power source.
Features:
High quality construction.
Red LED illuminates when fuse is blown.
Maximum of 30 Amp per circuit and 100 Amp per panel.
Clear cover included for additional protection.
Product Content:
1 Year Manufacturer Warranty
Amazon's Price:
not rated
Order Product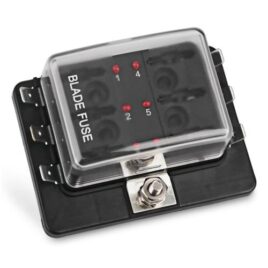 6-Way 12V Blade Fuse Box W/LED Indicator & Cover
Specifications
Voltage(Max): 32V DC Input Terminal Rating: #10-32 threaded studs (100A max.) Output Terminal Rating: 30A max. per circuit Connecting Terminal Specification Input Wire Size: #4-6 AWG Output Wire Size: #12-16 AWG Mounting Hole Dimensions: 11"x6.7" (29*17cm) Terminal Dim Dimensions: 2.52" (6.4cm) Blade Fuse Dim Dimensions: 7.88"x7.88"x6.3" (20*20*16cm) Temperature Rating: -20 to 85 degrees Torque Rating: 20in-lb (2.25Nm) max Mounting Torque Rating: 8 in-lb (0.9Nm) max Materials: PC Cover (Transparent)+ PBT Base(Black) + POM Push Bottom (White) + Tin-plating Copper
Features:
Temperature Rating :-20 degrees to 85 degrees High quality construction Maximum of 30 Amp per circuit and 100 Amp per panel Clear cover included for additional protection The fuse will cut off the current auto when it rise in the current to a certain temperature, so as to protect the safe operation of the circuit PBT shell (flame retardant, resistance to high and low temperature environmental protection material) Transparent cover for dust & humid protection Rugged, light weight construction Can be installed in circuit Can be fixed through (2) pre molded holes on side Each fuse holder is numbered to make fuse installation and identification as easy as possible. The product with red LED warning light, corresponding to each fuse piece connected to the electrical accessories, Red LED illuminates when fuse is blown. It is a perfect kit for adding a few circuits to your auto, boat, off-road or others if all you need is something simple. Made of tin-plated copper common sourced bus, good productivity and corrosion-resistant, it is the absolute best!
Amazon's Price:
not rated
Order Product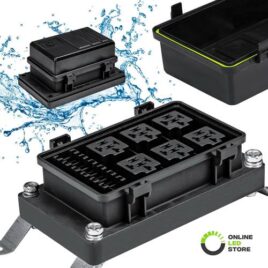 12V Waterproof Universal Fuse Relay Box
IP65 Waterproof 6-Slot ATC/ATO Fuse + 6-Slot 5-Pin Relay Box
Trying to organize harnesses, fuses, and relays can quickly have you driving in circles. Get your bearings with a dedicated, waterproof relay box. Like a trail map for your wiring, our relay box is the most efficient way to consolidate, organize, and keep track of all your aftermarket accessories. Boasting a six relay/fuse capacity, this relay box is more than capable of powering and protecting up to six independent circuits.
Durable Nylon 66 Construction

IP65 Waterproof

6 Relay and Fuse Sockets

Comes with ALL Needed Seals and Terminals
What's Included?
(1) Waterproof Fuse Relay Box

(1) Pack of Relay Rubber Pads

(1) Pack of Fuse Rubber Pads

(1) Pack of Relay Wire Terminals

(1) Pack of Fuse Wire Terminals

(1) Pack of Brackets and Fasteners

(1) Rubber Gasket

(1) Waterproof Ring

(1) Instruction Manual
Details & Specs
Front Dimension: L1: 8-13/16", L2: 6-7/16", H1: 3-3/4", H2: 3-3/16",M1: 5-7/8", M2: 8-5/16"

Side Dimension: W1: 6", W2: 3-15/16", M3: 3-3/32", M4: 5-1/2"

Package & Dimension: Length (In): 6.25, Width (In): 2.63, Height (In): 2.88
Amazon's Price:
not rated
Order Product