ReadyLift 2.25-Inch Leveling Lift Kit – 66-2020
ReadyLIFT leveling kits are the fastest, safest, least expensive way to bring the front of your vehicle level with the rear. Our forged torsion keys are designed to grab the FLAT of the torsion bar for a tighter, sturdier fit. CNC machined adjuster bolt pockets ensuring an accurate and safe adjustment. Only ReadyLIFT torsion keys are forged, making them 25% stronger than OEM and designed to last the life of your vehicle.
Tire Fitment:
32″ Maximum tire diameter
32×10.50 for no rub on a 8″ wide wheel with 0 offset
17″ – 275/70R17
18″ – 255/70R18
20″ – 265/60R20
Related products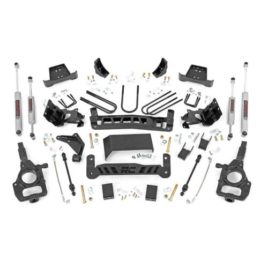 1998-2011 Ford Ranger Rough Country 5-Inch Lift Kit
Give your Ford Ranger a commanding, aggressive appearance and impressive off-road capabilities with Rough Country's 5in Suspension Lift! This all-inclusive kit comes with everything you need for increased ground clearance and a lifted, leveled stance. Rough Country's 5in Suspension lift includes front and rear crossmembers and a set of lifted knuckles, offering plenty of ride height to clear up to a 33-inch tire! A set of included, front brake lines and a durable steel skid plate help ensure your Ranger is ready to tackle any terrain with plenty of clearance and protection. For an impressive ride quality both on and off-road, this kit also includes Rough Country's nitrogen-charged N3 shocks. These 10-stage variable valving shocks feature a durable 18mm spring loaded piston rod, huge 54mm shock body, and reinforced seals for a long lifespan of smooth performance. This kit requires only minor cutting to install, and features a set of upper control arm cam bolts making it easy to achieve a proper alignment after lifting. Best of all, this kit includes Rough Country's Lifetime Replacement Guarantee!
FEATURES
Lifts and levels front with rear
Increased ground clearance
Includes upper control arm cam bolts for easier alignment
NOTES - IMPORTANT
17in or larger wheels are REQUIRED
Does NOT fit 11.25" rotors found on some 98-03 models
Models with 11.25" rotors must upgrade to 12.1" rotors
98-99 models equipped with pulse vacuum hub (PVH) port routed through the knuckle will need to be converted to manual hubs.
An upgraded drive shaft is HIGHLY recommended, such as #5089.1
A torsion bar tool is required for installation, such as #1067
Specialty tools may be required for models equipped with vacuum operated hubs.
SKU 43130
Est. Install Time 6-8 hours
Recommended Tire Size 285/70R17
Recommended Wheel Backspacing 4.5"
In The Box:
FRONT
Front Crossmember
Lifted Knuckles
Skid Plate
Differential Brackets
Torsion Drop Brackets
Sway Links
Extended Brake Lines
REAR
Rear Crossmember
Differential Brackets
Bump Stops
Brake Line Brackets
Anti-Wrap Rear Blocks
U-Bolts
SHOCKS
Amazon's Price:
not rated
Order Product