Traction Devices
Showing all 3 results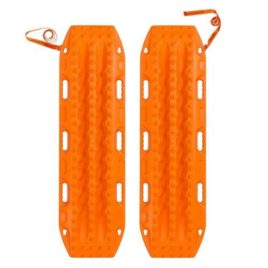 MAXTRAX MKII
Developed By 4WD Enthusiasts:
MAXTRAX was designed by experienced-4WD enthusiast and local Queensland guide book author Brad McCarthy with strength and ease-of-use in mind. It's the safe, simple, quick, easy, effective and inexpensive method of vehicle recovery. MAXimum TRAXion on any terrain.
How It Works:
Wedge MAXTRAX firmly against your tire tread, shift into your lowest gear, and gently accelerate. Once your tire's tread grips onto the MAXTRAX teeth, you will have the grip needed to self-recover. MAXTRAX work by adding traction and lifting your vehicle UP and OUT of the bog!
Amazon's Price:
not rated
Order Product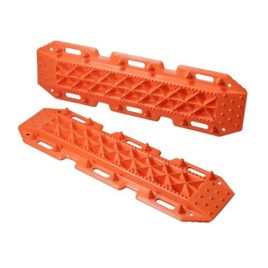 MAXSA Escaper Buddy Traction Mat
Be ready for anything mother nature can throw at your vehicle with your new MAXSA Innovations Escaper Buddy heavy duty traction mats. Whether on paved roads or off-roading in your 4x4, these mats are designed with every nasty surface condition in mind. Whether it's snow or ice getting you stuck or driving through mud on the farm or fishing or surfing on the beach, we will get you unstuck. Simply place these mats as far under your vehicle's drive wheels as possible and the heavy duty construction and large surface area spreads the weight of your vehicle out. This will ensure you get out of the most dire of circumstances. Once the mats are in place, you only need to press lightly on your accelerator to get the vehicle moving again. The superior traction tread of the Escaper Buddy grabs onto your tires so they don't slip and thus prevents your vehicle from digging into whatever ground condition is affecting you. In case of a non-traction related emergency, the Escaper Buddy's high visibility day-glo orange color allows them to be used as an emergency signaling device to attract the attention of passing vehicles. Built for functionality, durability and storability, the low profile Escaper Buddy cleans up easily after each use and is designed to fit comfortably in most trunk spaces. Never get stuck in the snow, sand or mud again! The Escaper Buddy's raised tracks give you the maximum traction to get out of any tough spot. Driving hazards like snow, ice, sand and mud are no match when you place these traction mats under the vehicle's drive wheels. You get two: one for each front or rear wheel. Each huge traction mat is 49 x 14.5 inch. Press lightly on the accelerator and you're going again. No towing and no pushing. Great for off-road. Works with any vehicle! Store them in the trunk or on the roof of your vehicle and take them anywhere! Amazon's Price:
not rated
Order Product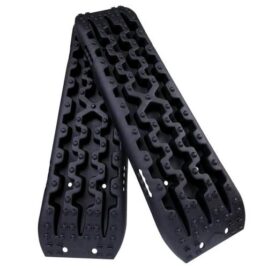 X-Bull Traction Mat
Raised tracks help prevent vehicle tires from spinning on snow, sand, mud or ice

No towing or pushing required

UV Stabilized-- Resilient design

Ideal for off-road use

Prevent your vehicle's tires from spinning when stuck in snow, mud or sand
HOW TO USE
At first sign of your vehicle being stuck, STOP. Don't keep spinning the tires- It wont work How deep you are and use a shovel to get underneath the tires. Dig a track in front of the front tires too, so there is minimal resistance to the vehicles pathway and you can keep your momentum. Air down tires to as much as you are comfortable with (carry a compressor with you- It is an essential trail tool).
Rocks: 15 psi min.
Soft Sand: Deep / silt / soft sand 8 psi.
Beach sand: 10-12psi min.
Mud: 15psi depending on bottom (compensate for rocks/holes/branches)
Try and get the tracks up against the tires lowest surface so it can grab a cleat and pull underneath the vehicle. Once the tracks are under the tires, DO NOT increase RPM and spin tires, as this will burn the cleats off of the tracks . Maintain a steady throttle until you feel the truck rise up, then increase throttle until you are completely out of the obstacle and able to gain traction without aide. Available in a variety of colors!
Amazon's Price:
not rated
Order Product