Nilight 4.7-Inch 45W Round LED Spot Light (Pair)
Nilight 4.7-Inch 45W Round LED Spot Light (Pair)
Product Description:
LED Power: 45 Watt (9x 5W/pcs High Intensity LEDs)
Beam Pattern: Spot Beam with 5D projector lens for further and soft light beam
Operating Voltage: 10-30V DC(Fit 12V,24V Vehicles,Cars,Trucks ect.)
Lifespan: 50,000 hours above
Waterproof Rate: IP68
Color Temperature: 6000K
Lumen: 4000LM
Material: 6063 Aluminum Profile, High quality Led Chips, PC Lens
Note:
They are aftermarket parts. NOT D.O.T. approved. Do not use if D.O.T. is required. For off road use only.
Before installing this product, please check your state/provincial and local/municipal laws and regulations.
Sold as a pair:
Why Choose Nilight Light?
High quality product and service
2 Year Warranty for Genuine Nilight light bar
More option choices
Amazon's Price:
Related products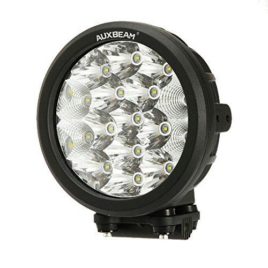 Auxbeam 7-Inch Round 80w CREE LED Spot/Flood Light
Auxbeam 7-inch Led driving light widely applies for various indoor and outdoor uses. Useful for all kinds of weather, fully aluminum alloy housing, vertical fins on the back, best cooling function, IP67, anti-corrosion, durable for heavy rain and any harsh conditions Replace HID or Xenon Light directly.
80W Combo Beam Angle: Flood & Spot
As the winner in 7inch driving light market, Our unique technique for spot & flood combo beams with extra deep reflector provide unprecedented greater width visibility and farther lighting distance. Super bright 16pcs 5W Cree LED chips support high energy efficiency and stability.
Flood Beam: 4pcs chips with 60 degree Reflect Cup.
Spot Beam: 12pcs chips with 30 degree Reflect Cup.
Mounting Brackets Simplify Your Life
Simple and easy installation, adjustable Mounting Brackets can be installed easier, save your time and enjoy assembly work light.
Package Included: 1x 80W Cree Round Led Work Light bumper
Technical Specification:
Power: 80W(5W X 16pcs)
Lumen: approx. 8000lm
Appearance: Black, Round
Waterproof Rate: IP67
Operating Voltage: DC 10~30V
Color Temperature: 6000k Pure White
Working Temperature: -40~85 degree Celsius
Housing Materials: Aluminum alloy housing, PC lens
Mounting bracket: High duty steel
Number of chips: 16pcs*5W high intensity CREE LEDs
Size (without bracket): approx. 195*180*110mm/7.5*7*4.3inch
Size (with Bracket): approx. 210*180*110mm/8.3*7*4.3inch
Life span: Above 5000 hours
Certified by CE, ROHS
Lighting Effect and Efficient cooling
Made of 16*5W CREE LEDs, total 80W at 6,000K Pure White color temperature with 8000 Lumens, 60 degree Flood Beam and 30 degree Spot Beam, could be working at -40 to 85 degree Celsius working condition, lighting the entire front viewing area, giving great visibility without causing eye fatigue.
Sold Individually
Amazon's Price:
not rated
Order Product