westin
Showing all 3 results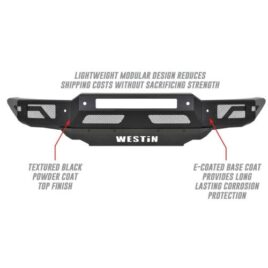 2019-2020 Ford Ranger Westin 58-41085 Textured Black Pro-Mod Front Bumper
Westin's Pro-Mod Front Bumper combines enhanced vehicle protection, with great looks. Pro-Mod's revolutionary lightweight modular design is uniquely engineered with outrigger reinforcement brackets to provide maximum front end protection without compromising on strength, integrity or durability. The "high and tight" bumper profile creates a greater approach angle, which significantly improves off-road driving capabilities. The lightweight design also requires smaller shipping packages which dramatically reduces shipping costs. Pro-Mod bumpers feature a textured black finish with an e-coated base coat, providing long lasting corrosion protection from the elements. Once you see the Pro-Mod Front Bumper, the choice becomes obvious.
Amazon's Price:
Optional 58-71085 Skid Plate:
Option 58-9905 LED Light Kit:
not rated
Order Product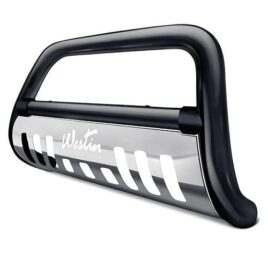 2019-2020 Ford Ranger Westin 32-3985 Textured Black Ultimate Bull Bar
The Ford Ranger Westin(TM) Ultimate Bull Bar is a front-end light bar made of 3-inch diameter tubing for larger model trucks and SUVs and made of 2.5 inch diameter tube for smaller trucks and SUVs. Product application is vehicle specific and comes complete with mounting kit. The Westin(TM)Ultimate Bull Bar features black molded caps on the crossbar welds for a finished and clean look. It features a stainless steel skid plate with a laser-cut Westin signature logo on it. Add a set of Westin(TM) Driving Lights for a complete customized look.
Amazon's Price
not rated
Order Product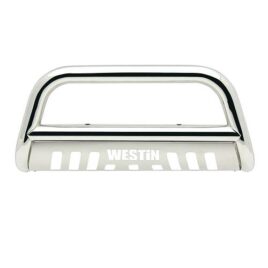 2019-2020 Ford Ranger Westin 31-3980 Polished Stainless Bull Bar
Westin Ford Ranger E-Series Bull Bars are a front-end light bar designed for trucks and larger model SUVs. It is made of 3-inch diameter polished stainless steel tube. It mounts utilizing existing vehicle mounting points and installation does not require any drilling to the vehicle frame. Comes complete with mounting kit the Westin E-Series Bull Bar provides a mounting point for (2) auxiliary lights up to 6-inch diameter. It features a die-cut Westin block logo design on the stainless steel skid plate unique to the Westin E-Series Bull Bar.
Amazon's Price
not rated
Order Product