Vengeance
Showing the single result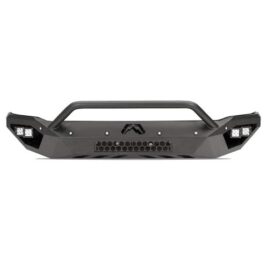 2019-2020 Ford Ranger Fab Fours 19-C Vengeance Front Bumper
Fab Fours' new Ford Ranger light weight bumper: Vengeance Series. These premium steel sensor bumpers are engineered to be light weight and offer a sleek and stylish finish for both the front and rear of your vehicle. Integrated 20inch LED light bar housing in the center and mounting options on each side for (2) 2-inchs LEDs to give you maximum LED light coverage. The fit of this bumper is high and tight and comes with lower cutouts to provide increased airflow; while also giving you that aggressive look both on and off the road. Available in a no guard or pre-runner guard option.
PRODUCT DETAILS
Overall design and fit is "High and Tight" to the contours of the vehicle. Lower cutout to provide increased airflow. Provides far greater tire clearance Complete bolt-on front bumper w/ provided brackets that tie directly to the frame. Sensor compatible Allows for an integrated 20inch Rigid Industries LED light bar in the center (light bar not included) Mounting options on each side for (2) 3×3 Dually lights to give you maximum LED light coverage. Sensors optimized for vehicles with suspension lifts – stock height trucks may require tuning the sensor mount and will require special care.
NOTES:
** Relocation bracket is required for adaptive cruise control for 2019 Ranger (M5350-1).  Also Provides mounting option for (2) 2×2 Dually lights Cube Light. **
*Does not work with the Sonar System.*
OPTIONAL: Side Light Mesh Insert Part# M5150-1 OPTIONAL: Center Mesh Insert Part# M2450-1
TECH SPECS
Materials:
11gauge US Steel
Finish:
Fab Fours 2 Stage Black Powder Coat
Size/Weight:
Weight: 125 lbs.
Application:
2019 Ford Ranger
AMAZON'S PRICE:
not rated
Order Product