led fog light
Showing all 2 results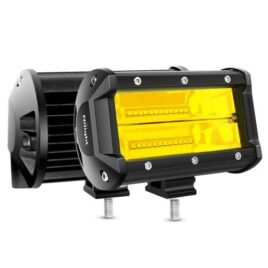 Nilight 5-Inch 72w Double Row Flood LED Fog Lights (Pair)
Bright flood beam: high-quality LED chips Emits bright white light, flood beam lets you see the left and right clearly at night. Upgrading reflector cup: 5 inch 72W led light bar upgrades their reflector cup,the broad reflective plate allows multi-angle refraction, flood beam ideal for ambient illumination, which makes the light beam angle can be 180 degree, allowing you to see the front and side more clearly at dark night. Adjustable mounting bracket: the mounting bracket can be adjusted and slid, offering convenience to adjust position flexibly when needed. High performance: IP67 waterproof rate, efficient cooling, die-cast aluminum alloy housing, wear and thermal conductivity, to resist harsh environments, and the heat sink guarantee an efficient heat dissipation, which enhance the 5 inch yellow led light bar's lifespan, over 30, 000 hours lifespan. Package include: 2PCS 5.3 Inch LED light bar and mounting brackets
Amazon's Price:
not rated
Order Product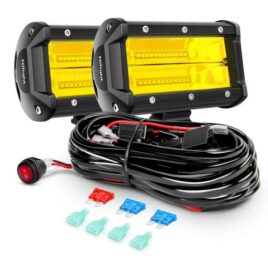 Nilight 5-Inch 72w Double Row Flood LED Fog Lights W/Harness (Pair)
BRIGHT ENOUGH TO LIGHT UP YOUR ROAD: Advanced superior-quality 24pcs LED chips Emits bright YELLOW light, flood beam lets you see the left and right clearly at night.
COME WITH WIRING HARNESS: Universal wiring harness kit is up to 12 ft with 2 leads for connecting 2 led lights under 180 W, easy to install.
ADJUSTABLE MOUNTING BRACKET: This LED light bar are equipped with adjustable mounting brackets offering convenience to adjust position flexibly when needed.
UPDATING REFLECTOR CUP: 5 inch 72W YELLOW led light bar upgrades their reflector cup, the broad reflective plate allows multi-angle refraction, flood beam ideal for ambient illumination, which makes the light beam angle can be 180 degree, allowing you to see the front and side more clearly at dark night.
Package Included: 2 x 72W LED Work Lights 1 x 12 ft Wiring Harness Kit.
Amazon's Price:
not rated
Order Product