control box
Showing the single result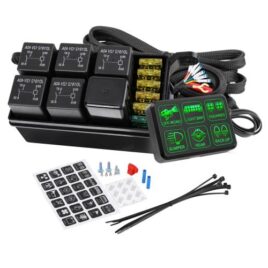 Nirider Universal Circuit 6-Gang Control Box
OVERVIEW - The 6 gang switch panel allows you to control 6 set of LED lights or devices with the push of a button. With 6 circuits rated at 40A each, can powered all types of 12V/24V accessories. Includes 24 reusable switch stickers, you can customize the panel to specific accessory set up. With high stability, anti-interference and strong anti-vibration ability, it won't be affected by the shaking environment.

APPLICATIONS - The universal switch pod and control box can be installed in any location you see fit so that no matter what make and model you drive, you're sure to find the perfect position for controlling your devices.

CLEAN & EASY - Plug-n-Play, easy to install, looks super clean in your cab and underhood. This is a professional quality power distribution system and it designed for use in any vehicle, allowing you to add professional control for your electronic devices in an easy-to-install system that doesn't force you to splice into factory wiring.

SAFETY & DURABILITY - 24 MONTHS quality assurance. No need to worry about over-current or over-temperature conditions (even 200° max). Come with high-temp and abrasion resistant wiring harness, fuses, relays, and temperature protection switch, if the internal temperature crosses 100 °C, the circuits will shut down and attempt to reset.

BOX COME WITH - 6 gang switch panel, control box, 24pcs stickers, long and durable nylon wiring harness, 6 color coded output wires for hooking up accessories, 6 plug-in style 40A relays, 1 ATO style 30A and 5 20A fuses for protection. Accessories included panel bracket, REPLACEABLE butt splice connectors, wire splice connector, screws, zip ties, 3M double-sided tape, manual (accessories are at the bottom of the foam pad). Quickly email responded within 24 hours and good after-sales service.
Amazon's Price:
not rated
Order Product