Bed Racks / Bars
Showing all 5 results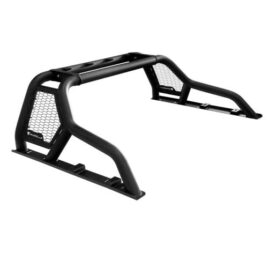 Armordillo USA 7180345 CR1 Chase Rack for Mid Size Trucks
Armordillo® CR1 Chase Rack; Whether you are on the road or off the pavement, the Armordillo CR1 Chase Rack will fulfill all your needs. Designed by and for the enthusiast the CR1 Chase Rack is constructed with premium steel with a diameter of 3", it also features 4 auxiliary light mounts and our unique above the bed tire carrier. Unlike other chase racks in the market, our spare tire carrier sits above the bed so you will not lose the space needed if you use this rack on or off the road. (Lights and Tire Carrier sold separately)
Features:
Base rack constructed from premium steel with a black powder coat finish.
In-bed tire carrier option allows for up to a 37" tire on an angle.
Steel bolt-on tire carrier installs easily to the base Chase Rack.
Chase Rack features 4 Auxiliary light mounts. Lights not included.
Engineered to provide the ultimate in style and protection.
Rigorously tested for impeccable quality, ever-lasting durability and perfect fit.
Designed to provide an excellent combination of price and quality.
The Armordillo CR1 Chase Rack comes with a 5-year limited warranty.
Amazon's Price
not rated
Order Product