Auxbeam Round Offroad Light 7-Inch Round 45w Spot Beam with Orsam Chips (Pair)
AUXBEAM LED ROUND LIGHT SERIES
Extremely cool engineering beam pattern design, nice performance even in foggy days.
Nice fitment, easily replaces old dull filament bulbs.
High speed built-in fan, fast and effectively cool down the heat.
Easy installation, just plug & play.
Faster on/off response time and vibration resistant.
Environmental-friendly: energy saving, no UV and IR radiation, shock-proof and anti-corrosion.
Technical Specification:
ED Power: 45W

Lumens Output: 4500 lm

Operating Voltage: 10-30V DC

Certificates: CE, RoHS, IP68

Color Temperature: 6000K

Material: Diecast aluminum housing

Lens material: PMMA

Optional Beam: Spot light (30 degree)

Package Included: 2 x LED Work Light; 1 x Line group
Amazon's Price:
Related products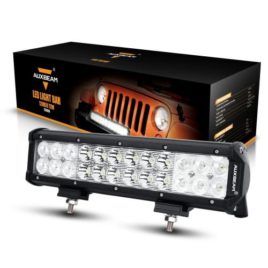 Auxbeam 12-Inch 72W CREE LED Spot/Flood Light Bar
Auxbeam 12-Inch 72W CREE LED Spot/Flood Light Bar:
Auxbeam 12 inch LED light bar use CREE chips and spot (30 Degree) & flood (60 Degree) combo beam design for better light distance and width while consuming little power. The reflector cup and projector lens are designed for long distance driving. With adjustable mounting brackets, you can easily change the position and direction.
High quality die cast aluminum housing, durable to withstand any harsh conditions.
Low power consumption, high lumen output.
Longer valid irradiation distance than normal halogen bulb.
Advanced Vertical fin design for maximum heat dissipation.
Wide operating voltage: it can apply to different kinds of truck, off-road vehicles, 4x4, military, mining and heavy equipment etc.
Luminous Flux: 5040lm~7200lm Beam Type: 30 degree(spot beam)& 60 degree(flood beam) combo
Power: 72W; 24pcs*3w high intensity CREE LEDs.
Color temperature: pure white 6000k
Waterproof rate: ip67
Working temperature: -40 - 85 degree centigrade
Dimension (with bracket): approx. 302 x 106 x 64 mm/11.8 x 4.17 x 2.52 inch
Spot (30 Degree) & Flood (60 Degree) Combo Beam:
12 inch dual row of original CREE LED chips provides super broad viewing area. Spot (30 Degree) & Flood (60 Degree) combo create the best light beam. Up to 7200lm Luminous Flux and 24 High Power LED will light up everything you need to see.
Amazon's Price:
not rated
Order Product