2019-2020 Ford Ranger Warn 104296 Ascent Baja Tube Guard
Combining low-profile styling with high performance off-road features, our new bolt-on Baja tube guards are the perfect addition to your ascent bumper. These tubes add aggressive style and heavy-duty protection using sturdy 2″ diameter wall tubing.
Adds aggressive style and heavy-duty protection

Sturdy 2″ diameter x 120″ wall tubing

Compatible with all camera vision systems and sonar parking sensors

Designed, tested, and manufactured in the USA

Compatible with 2019+ North American Spec Ford Ranger
Amazon's Price
Related products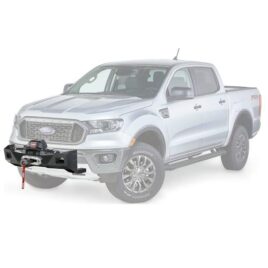 2019-2020 Ford Ranger Warn 103322 Trans4mer Mid-Frame Mounting Kit
The WARN 103322 Base Winch Mount System is commercial-grade and designed for the 2019-2020 Ford Ranger and includes the mounting bracket as well as a mid-frame winch carrier. Pull-tested and certified to withstand 12, 000 lbs. of pulling force, allowing this winch mount to be compatible with foot-down mounted winches up to 12, 000 lbs. in pulling capacity. The innovative design reduces the install time due to no cutting, drilling, or grinding required during installation. Includes provisions to mount lights and J-Hooks for recovery, and is designed, tested, and made in the USA. Fits WARN winches such as Zeon, Zeon Platinum, VR, M8, XD9, and 9. 5xp. Note: this will restrict the use of adaptive cruiser control and front parking sensors.
Base winch mount system for 2019-2020 Ford Ranger; Includes mounting bracket and mid-frame winch carrier
Pull-tested and certified to withstand 12, 000 lbs. of pulling force
Compatible with foot-down mounted winches up to 12, 000 lbs. in pulling capacity; Fits WARN winches such as Zeon, Zeon Platinum, VR, M8, XD9, and 9. 5xp
No cutting, drilling, or grinding is required for installation allowing for reduced install time
Includes provisions to mount lights and J-Hooks for recovery; Designed, tested, and made in the USA
Amazon's Price
not rated
Order Product